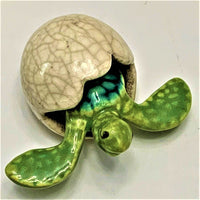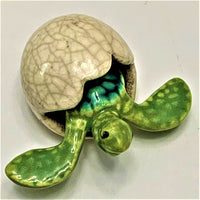 Mini Sea Turtle Hatchlings
Artisan:  Ben Diller
Medium:  Ceramic, paint
Dimension:  2x2x1.5
Sea Turtles are hand-thrown ceramic art pottery.  No two are alike and vary in size.  While the Loggerhead Sea Turtle is more abundant along the east coast and nest at Tybee Island down along the Golden Isles into Florida, they are also known to hang out in Hawaii.  Much like us, they love the beautiful Hawaii Islands.