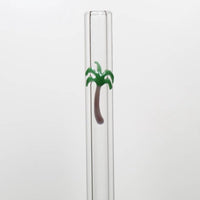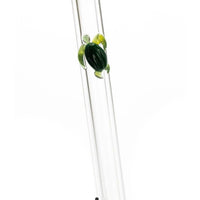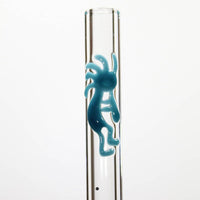 Sculpted Glass Drinking Straw
Classic 9.5mm 8" straight glass straw with fused glass design sculpted onto the top of the straw,
Do you enjoy the clean lines and smooth designs that define classic tastes? Then our essential taste line of glass straws is for you!
Each straw is smooth, clean and straight, the hallmark of class.
And don't forget a reusable cleaning brush is included! Cleaning glass straws just got a little bit easier.A variety of etched designs available.
All of our products are handmade with love with hopes to create a world with fewer single-use plastics, starting with straws. We have been helping communities go plastic straw-free for 11 plus years and we are the "Straw Experts".
Jeremy has over 20 years of experience with glass and we strive to have the highest quality reusable straw on the market. • Handmade in the USA • Lifetime Guaranteed against breakage (less than half of a percent in 12 years) • Glass is clear and the only straw that you can tell it is clean • Glass is an insulator and protects your lips with hot or frozen beverages • Glass has no flavor unlike stainless steel, silicone,