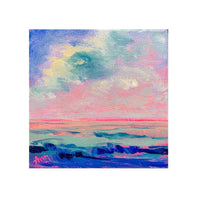 "Lilliputian Art: Believe"
Artist:  Ann Lutz
Medium: Acrylic on Gallery Wrapped Canvas
Dimension: 5x5x1.5
"Thanks for adding a splash of my color to your world," says Ann.
Visitors are constantly amazed at the blast of color in Tybee Island's skies.  Locals relish them, and celebrate constantly that they are blessed enough to live in such a beautiful and temperate place.  For the period of time that you are on Tybee Island, live like a local.  Enjoy sunrises and sunsets, walking on the beach early and late.