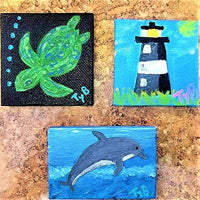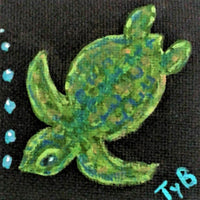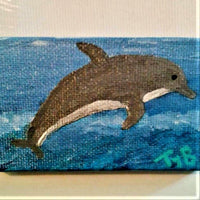 "Mini-Art: Island Design Magnets"
Artist: Twisted Sisters
Materials: Acrylic paint on canvas
Dimensions: 2.5x2.5
These original, one-of-a-kind, acrylic paintings on canvas are a fabulous reminder of your time on Tybee Island! These pocket-size treasures are perfect for your refrigerator at home or as an added treat for guests in a Tybee Island vacation rental!
Our magnets go fast.  This is a picture of our inventory when we first brought them into the gallery for sale.  However, we cannot keep them in the gallery so no current picture is available.  Call the Gallery at 912-472-4037 if you would like to order a specific magnet.  Otherwise, we will pick one from our current inventory to send you.