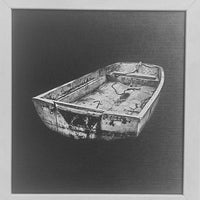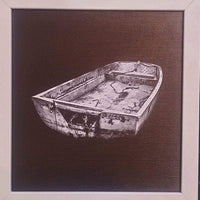 "I Was on a Boat that Day"
Artisan:  Twisted Sisters
Medium:  Photograph Print on Wood
I mage Dimensions: 12x12
Framed Dimensions:  13x13
Macro photograph printed on wood, and framed.  Surreal image in the aftermath of a tropical storm. High tides misplaced her, the motor was gone, her hull was damaged, yet the beauty remains. Black background with crisp white wooden frame.