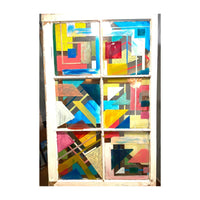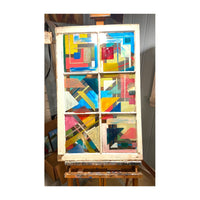 "Hanging Art: Mixing Old with New"
Artist:  Charissa Murray
Medium: Oil on Repurposed Vintage Window
Dimension:  21x34x1.75
Local artist, Charissa Murray, repurposed a Tybee Island vintage window to create an impressive geometrical piece of hanging art.  This colorful window could be used to create a focal window in your home or create a centerpiece of hanging art for your porch or a lovely flower garden.
Hand painted on both sides of the window to create the look of stained glass
Additional shipping charges may apply due to weight and shipping destination.