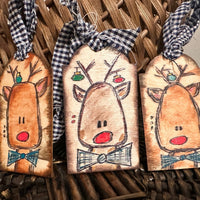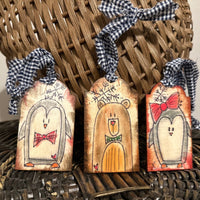 Handmade Wooden Ornaments
Artist;  Teresa  Kassing-Bush
Medium:  Doodles on Wood
Dimension:  2" x 3.7"
Unleash  the magic of the holiday season with our exclusively crafted wooden ornaments at Irritable Pelican Gallery. Every piece is a labor of love, hand-doodled and hand-painted by our talented artisan, Teresa Kassing-Bush, resulting in a vibrant palette that brings each ornament to life. The intricate doodles are a testament to her skill and patience, making every ornament a unique piece of art.
Further adding to their charm is the hand-staining process, which brings out the natural grain of the wood, adding depth and character to each piece. A final touch of polyurethane ensures a glossy finish and longevity, protecting these precious pieces for future holiday seasons.
Embrace a truly unique festive experience with these handcrafted treasures. Hang them on your tree, use them as gift tags, or simply let them adorn your holiday table. These wooden ornaments are more than just decorations – they're a statement of style, an expression of love, and a celebration of the artisan spirit.
Available only at the Irritable Pelican Gallery, these handcrafted ornaments are the perfect way to make your holiday season truly special. Add them to your holiday collection and let their unique charm fill your home with warmth and joy.