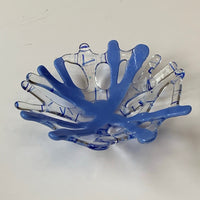 Hand-cut Fused Glass 6-Inch Coral Bowl
6-inch diameter Coral bowl by Twisted Sisters is a functional piece of art that is part of the Coral Bowl Collection. 
Not only is it a great way to display collectibles and other decorative items, but is it a beautiful way to serve food such as bread, rolls, etc.  
Coral Bowls can be made in different sizes and colors on request.