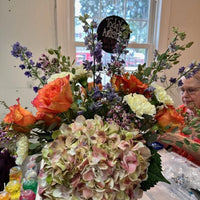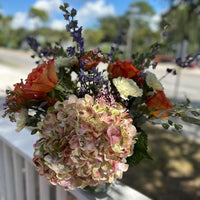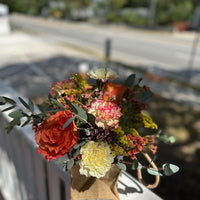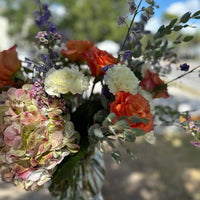 Flower Power: The Art of Arranging Fall Blooms
Sept 28, 2023
4:30-6:00 PM
Pelican's Palette at Irritable Pelican Gallery
All ages welcome (8+)
$40/participant
All supplies provided.
Welcome to the fundamental class in flower arranging! In this class, you'll learn the basic principles of creating beautiful and balanced floral arrangements.
We'll start with an overview of the different types of flowers and foliage, as well as their characteristics and care requirements. Then, we'll dive into the elements of design. 
You'll learn various techniques for preparing and arranging flowers, such as conditioning, wiring, and taping. We'll cover different types of vases and containers, and how to choose the right one for your arrangement.
Throughout the class, you'll have the opportunity to create your own floral arrangement, applying the concepts and techniques you've learned. You'll receive personalized feedback and guidance from our experienced instructor, who will help you refine your skills and create stunning arrangements.
Class instruction fees are non-refundable.  However, should you notify us prior to the class that you are unable to attend for any reason, the Pelican's Palette will issue you a credit that can be applied to a future class.
Teresa Kassing is a unique and multi-talented artist based on Tybee Island. By day, Teresa is a registered pharmacist, but her true passion lies in her art. Teresa demonstrates her love of art through gardening, arranging flowers and doodling.  As a self-taught floral artist, she creates intricate and whimsical designs that are both playful and captivating. Her work has been featured in local galleries and exhibitions,  and she is known for her ability to transform everyday objects into works of art. With a keen eye for detail and a love for her craft, Teresa's floral designs are a true reflection of her artistic spirit.
Whether you're a beginner or looking to refresh your skills, this class is perfect for anyone who wants to learn the art of flower arranging. Join us and discover the joy of creating beautiful and meaningful arrangements that bring joy to yourself and others!
This class will be held on Sept 28, 2023 at Pelican's Palette, 802 1st Street, Tybee Island, from 4:30-6:00 PM.