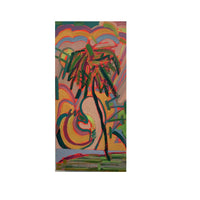 Artist:  Ann Lutz
Medium: Original Oil on Gallery Wrapped Canvas
Dimension: 10x20x1 1/2
"Thanks for adding a splash of my color to your world," says Ann.
Everything on Tybee is a little quirky, even its palms.  Ann Lutz captures the beautiful vibes that the people, creatures and flora on Tybee send out to the world.  Make this abstract, original oil painting yours today!  Let is be a colorful reminder of your "happy time" on Tybee Island.