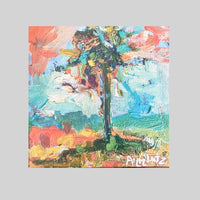 Artist:  Ann Lutz
Medium: Oil Print on Canvas
Dimension: 8x8x1
"Thanks for adding a splash of my color to your world," says Ann.
With tall palm trees and swaying river grass gracing the landscape, visitors are happily welcomed to Savannah's Beach. ... Out here, it's a little quieter and a lot sunnier, so slow down and relax, because you're on Tybee Time.