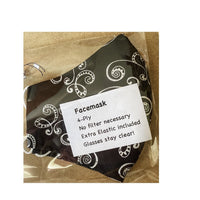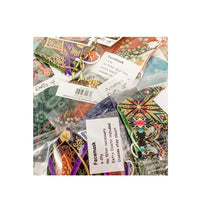 Artisan:  Doris Grieder
Materials:  fabrics and embellishments
Size:  Fits most wine bottles
4-ply face mask, made from artistic fabric by Doris Grieder. Assorted colors and designs available.  No filter necessary.  Machine washable.  Extra elastic included.   Glasses stay clear
However, we never know what inventory we will have because each is truly one of a kind.  Pictures are being posted of the current inventory.  If you want to order, we will select from current inventory or give us a call at 912-472-4037.  We will be glad to send you information on what we have in stock.