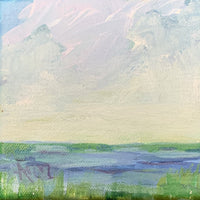 "Lilliputian Art: Peaceful"
Artist:  Ann Lutz
Medium: Acrylic on Gallery Wrap
Dimension: 4x4x1.5
"Thanks for adding a splash of my color to your world," says Ann.
And then the early Summer comes.  The marsh turns green.  The water gets more blue.  The skies take on beautiful pastel colors as the day progresses. Tybee Island's canvas is the sky, and the artist is nature, itself.